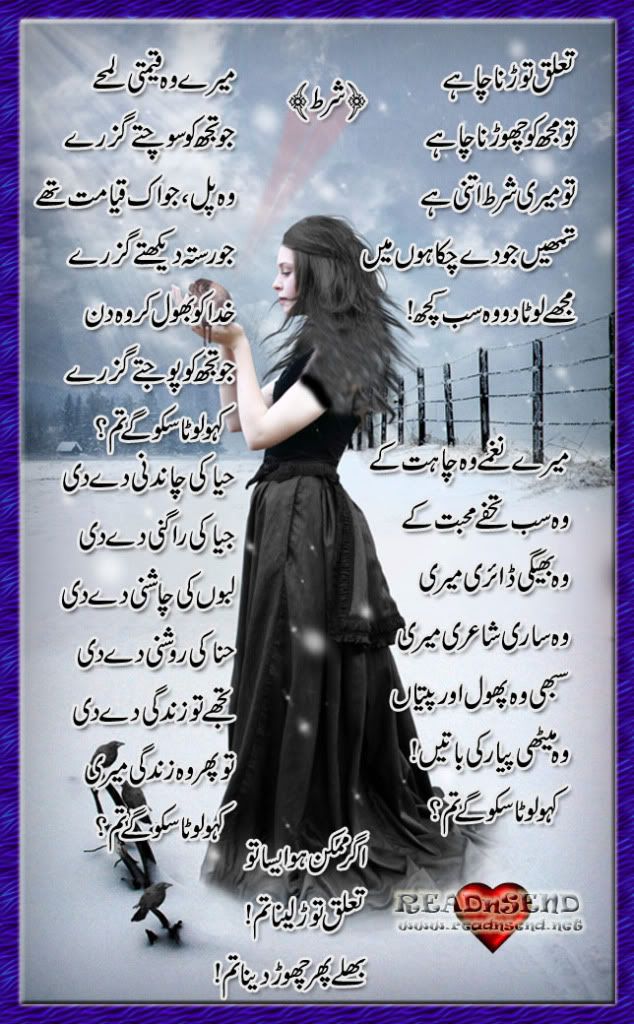 Transliteration
Tayaluq tornaa chahey
Tu mujh ko chornaa chahey
To mairee shart itnee hay
Tumhain jo day chukaa hoon main
Mujhey lotaa do woh sab kuch !
Mairey naghmay woh chahat kay
Woh sab tohfay mohabbat kay
Woh bheegee dairee mairee
Woh saree shayereee mairee
Sabhi woh phool aur patiaan
Woh meethee piyaar kee batain
Kaho lotaa sako gay tum ?
Mairey woh qeematee lamhey
Jo tujh ko sochtey guzrey
Woh pal, jo ek qayamat they
Jo rastaa dekhtey guzrey
Khudaa ko bhool kar woh din
Jo tujh ko poojtay guzrey
Kaho lotaa sako gay tum ?
Haya kee chandanee day dee
Jiaa kee raganee day dee
Labon kee chashanee day dee
Hinaa kee roshanee day dee
Tujhey to zindagee day dee
To phir woh zindagee mairee
Kaho lotaa sako gay tum ?
Agar mumkin ho aisaa to
Tayaluq tor laynaa tum !
Bhaley phir chor denaa tum !

Designed By Faisal Shahzad
www.READnSEND.net

Give your Suggestion, help us improve
Invite a Friend to join the READnSEND Group
or If you'd like to add your relatives/friends emails in
this mailing list then email Us their addresses (one address per line)
If you are receiving this email as a forwarded message
JOIN US